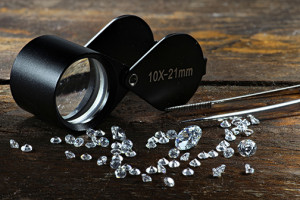 In our Diamond Buying Guide we answer the questions our customers most frequently ask us while shopping for diamond rings, bracelets, pendants, and earrings. We encourage you to take advantage of our extensive knowledge and expertise. Valentino Fine Jewelers owner Mark Singerman and his highly-trained staff have more than 50 years of combined experience serving San Francisco Bay Area customers. After reading our FAQ, please contact us if you have remaining questions regarding any topic related to diamond jewelry design and repair. We look forward to serving you.
Q. How is a diamond's value determined?
A. The factors used to grade the quality, rarity, and value of finished diamonds are known as the four C's:
Clarity. The clearer the diamond, the higher the value, brilliance, and rareness.
Color. Diamonds can have color tints, including yellow, brown, blue, and black. Colorless and near-colorless diamonds are the rarest and most valuable.
Cut. Defines the diamond's shape and also describes a diamond's reflective characteristics. The distinction between a diamond's shape and cut is explained by the following: The shape refers to the appearance of the stone; the cut refers to the diamond's ability to reflect light.
Carat weight. The word "carat" comes from the "carob" seed, the original unit of measure for diamond traders. A carat is equal to exactly 0.2 grams. Carat weight alone does not necessarily determine a diamond's value. Diamonds of equal carat weight can have very different costs based on cut, color, and clarity.
Download a PDF of our Diamond Buying Guide
Q. How is a diamond cut and polished?
A. The process of how diamonds are cut and polished can be broken down into five steps:
Planning. In this stage, the cutter determines the best possible shapes for the diamonds that are to be produced from the larger rough stone. After obtaining accurate measurements of the rough stone, the cutter inputs that data into software that renders 3-D models of the diamonds to be produced. The 3-D models guide the cutter's decision as to which shapes will best optimize use of the rough diamond.
Cleaving. During the cleaving process, the rough diamond is split into separate pieces.
Bruting. This step is performed to make the separated rough stones round.
Polishing. Once the rounded shape of the rough stone is formed, the next step is to create and form the facets of the diamond. The cutter places the rough stone on a rotating arm and uses a spinning wheel to polish it. This creates the smooth and reflective facets on the diamond.
Inspecting. During this final step, the diamond is checked to make sure it meets the manufacturer's specification.
Q. Which shape of diamond is most popular for a wedding ring?
A. Because they offer the most sparkle and versatility, round brilliant-cut diamonds are the most popular for wedding rings. Their unbelievable sparkle is due to the shape's 58 facets, which cause light to bounce from the bottom of the diamond back through the top. In a simple setting, round diamonds provide a look that is clean and modern.
See our gallery of wedding and engagement rings.
Other diamond shapes include:
(Diamond shapes are shown in order as listed below)

Princess. Traditionally, a square cut of four sides of equal length. Princess-cut diamonds also tend to have a slightly lower price per carat than round-cut diamonds. Of all of the square cuts, the brilliant-cut princess diamond comes the closest to achieving the fire and brilliance of a round diamond.
Emerald. The emerald shape offers elegance and a unique "hall-of-mirrors" effect, which is due to the interplay of light and dark planes. Because an emerald-shaped diamond has a larger surface area than a round diamond of the same size, the emerald diamond will appear larger.
Asscher. The modern asscher-cut diamond is similar to a square emerald cut. Due to its larger step-cut facets and higher crown, the asscher offers more brilliance than the square emerald.
Cushion. This diamond combines a square cut with rounded corners (like a pillow). Many are attracted to the cushion's antique feel. Another aspect of the cushion's appeal is its fire—the light that reflects out of a diamond that appears as a rainbow of color.
Marquise. Symmetry of this football-shaped diamond is critical; even a slight misalignment in the points can result in an off-balanced look when placed in the setting. One appeal of the marquise diamond is that its elongated shape has a slimming effect on the finger of the wearer. Additionally, the marquise diamond has one of the largest crown surface areas of any diamond shape, which maximizes its perceived size.
Pear. The pear-shaped diamond is a combination of a round and a marquise shape, and it is tapered to a point on one end. Like the marquise diamond, symmetry of the pear cut is very important. The diamond's color rating is also important because pear-shaped diamonds tend to show color more readily; therefore, a color rating of H or better is advised. Because the pear shape is a modified round brilliant diamond, it features the same number of light-reflecting facets (58) as a round brilliant-cut diamond.
Radiant. This shape is noted for its elegant, modern square shape and gently trimmed corners. This vibrant shape combines the vivid fire and brilliance of the round brilliant, which gives a radiant diamond engagement ring a noticeable "WOW" factor. It is also a very versatile cut that looks great in various styles of settings.
Heart. This cut is essentially a pear-shaped diamond with a cleft at the top center, which forms the lobes of the heart. These diamonds are used most often in engagement rings, solitaire pendants, and matching earrings. The shape's romantic symbolism makes any jewelry with this diamond cut perfect for Valentine's Day, anniversaries, and birthdays.
Use our Search Tool to look for loose diamonds by cut, clarity, and weight.
Q. How is a diamond's color rated?
A. The Gemological Institute of America ­(GIA) has developed the industry standard for diamond color ranking.
Here is the GIA's chart for color range:
| | | |
| --- | --- | --- |
| Colorless – D, E, and F Range Diamonds | | While there are differences in color between D, E, and F diamonds, they can be detected only by a gemologist in side-by-side comparisons and rarely by the untrained eye. D-F diamonds should only be set in white gold or platinum as yellow gold reflects color, negating the diamond's colorless effect. |
| Near Colorless – G-J Range Diamonds | | While containing traces of color, G-J diamonds are suitable for a platinum or white gold setting, which would normally betray any hint of color in a diamond. Because I-J diamonds are more common than the higher grades, they tend to be a great value. An I-J diamond may retail for half the price of a D diamond. Within the G-J range, price tends to increase 10% to 20% between each diamond grade. |
| Faint Color – K Diamonds | | Beginning with K diamonds, color (usually a yellow tint) is more easily detected by the naked eye. Set in yellow gold, these warm colored diamonds appeal to some, and they're an exceptional value. Others will feel they have too much color. Due to its perceptible color tint, a K diamond is often half the price of a G diamond. |
| Very Light Color – N-R Range Diamonds | | Diamonds in the N-R color range have an easily seen yellow or brown tint, but they're much less expensive than higher grades. |
| Light Color – S-Z Range Diamonds | | For almost all customers, S-Z color range diamonds have too much color for a white diamond. |
Q. What kind of certification should a jeweler provide to authenticate the diamond?
A. Your jeweler should provide information on your receipt that includes the following about your diamond:
Carat weight
Shape
Measurements
Cut
Color
Clarity grade
Ask your jewelers if they also provide a statement of replacement cost, which is suitable to submit to your insurance company for damage or loss coverage.
We hope our Diamond Buying Guide has been helpful. Contact us for a free consultation about the diamond shapes and cuts that fit your taste and budget.