Celebrate September with Sapphire Jewelry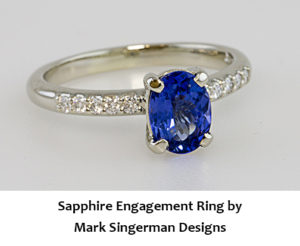 Sapphire is the birthstone for September and the gem of the 5th and 45th anniversaries. Blue sapphire jewelry is also a symbol of love and commitment, making it a perfect gemstone for an engagement ring.
The Royalty of Blue Gemstones:
The Blue Sapphire's extraordinary color is the standard against which other blue gems—from topaz to tanzanite—are measured. The Intensely saturated and rare sapphires from Kashmir set the standard for blue.
Are Sapphires Always Blue?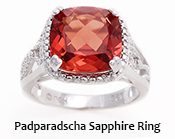 Not always. For example, there is a special orange-pink sapphire color that's called Padparadscha, which means "lotus flower" in Sinhalese, the language of Sri Lanka. These extremely rare and prized sapphires may be priced at over $20,000 per carat. The Padparadscha sapphire belongs to a family of gems called "fancy sapphires" that also come in violet, green, yellow, orange, pink, purple, and intermediate hues.
Sapphire Color Evaluation:
Hue refers to the sapphire's basic color, which can be blue, slight green, strong green, slight purple, and strong purple.
Tone refers to the degree of lightness or darkness of a color, as a function of the amount of light absorbed.
Saturation refers to the intensity and richness of the color.
In general, the more intense the color and the fewer the distracting zones of unattractive color, the more valuable the stone. According the GIA, "the most highly valued blue sapphires are velvety blue to violet blue, in medium to medium dark tones. Preferred sapphires also have strong to vivid color saturation."
What are Inclusions and How Do They Affect a Sapphire's Value?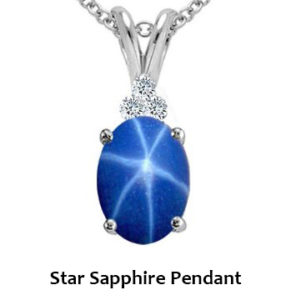 Inclusions, or internal flaws, are one of the most important factors when it comes to gem valuation. In diamonds, inclusions affect the clarity of the stone, diminishing the stone's value. In the case of sapphires, however, the inclusion can make a prized specimen even more valuable and intriguing.
For example, consider the Star Sapphire. The star effect in a sapphire is called asterism, which is caused by reflections from tiny, needle-like rutile deposits—a solid inclusion—that are oriented in several specific directions. The term Silky Sapphire refers to a gem in which the rutile needles form delicate intersecting lines.
Contact us for more information about our stock of sapphire gemstones
and custom designed sapphire jewelry options.
Sapphires: Legends and Lore
In ancient Greece and Rome, kings and queens were convinced that blue sapphires protected their owners from envy and harm. During the Middle Ages, clergy wore blue sapphire jewelry to symbolize heaven.
Sources of Sapphires