From Fire to Crystal to Black, A High-Grade Opal Is Always A Dazzling Affair
The ancient Hindus called opals "upala", which is Sanskrit for "precious stone."  The Greek's offered up the name "Opallios," meaning "to see a change of color." Boy, did they get that right. An exquisite piece of opal jewelry can flash colors and light like a rock concert. And because an opal's vibrant colors are redolent of many fall hues, they make a perfect gift for October birthdays. 
Opals –The Quality Assessment:
Color—Background color and play-of-color
Pattern—Arrangement of play-of-color
Clarity—Transparency and quantity of inclusions or impurities
According to the Gemological Institute of America (GIA) "Play-of-color might be the most spectacular aspect of an opal's appearance. No matter the color or combination of colors, play-of-color must be vivid to command a high rating. In other words, opal jewelry lovers prize bright play-of-color over faint play-of-color.
Secondary in importance to play-of-color's strength is its range. If an opal's play-of-color is not just bright, but also ranges across the entire spectrum, it's very rare and valuable. Not every precious opal, however, sparkles with every color of the rainbow. In some, the play-of-color consists of just one main color and two or more secondary colors."
Clarity and Transparency
For opals, clarity is assessed by the degree of transparency and by a lack of inclusions—any material trapped inside the gemstone while it formed that may include crystals of other minerals, liquid or gas bubbles, or even fractures caused by radioactive material contained within the host material.
An opal's clarity can range from completely transparent to opaque. Different types of opals are prized for different levels of clarity. Black opals show their colors more vividly when they have an opaque background, while transparency is key for crystal opals to show off a resplendent play-of-color. Opals with a cloudy or milky background color have a lower value.
Contact Us about our inventory of opals and our custom designed opal jewelry.
Caring For Your Opal Jewelry
Because opal is a soft stone, it is important to take extra care to avoid damaging your gemstone. Take your opal ring off when doing manual work like gardening. Avoid subjecting your opal to very dry conditions or rapid changes in temperature. If an opal loses moisture, it can lead to fine, spider web-like cracks. Also, try to keep your opals out of prolonged exposure to direct sunlight. And lastly, remember that bank vaults are often zero humidity environments, so storing your opals in a safety deposit box could in fact be risky.
Over 90 Percent of The World's Opals Come From Australia
Our earth's slow, deliberate archeological magic has bestowed Australia's Great Artesian Basin with an incomparable bounty of beautiful and rare opals. The most valuable gemstones come from the mines in the states of South Australia and New South Wales. The famous opal fields of Coober Pedy, located in South Australia, are in a region that has a unique archaeological history. Back some 250 millions years ago in the Mesozoic Period the region was covered by a vast inland sea populated with prehistoric aquatic reptiles. Once the sea dried up, the earth began to churn myriad complex subterranean processes that resulted in the perfect recipe of decayed reptiles, sandstone, clay, and silica for forming opals.
Famous Australian Opal Mining Towns
Coober Pedy, South Australia, which produces the bulk of the world's white opals
Andamooka, South Australia, is one of the oldest and most prominent known opal fields in Australia.
White Cliffs, New South Wales, produces predominantly white or crystal opals.
Lightning Ridge, New South Wales, world famous for gem quality black opals—the most sought-after opal in the world.
Famous Opal Gemstones and Opal Jewelry
Aurora Australis—The world's largest and most valuable black opal, the Aurora Australis was discovered in 1938 in the mines near the town of Lightning Ridge in New South Wales, Australia. The cut and polished stone features a harlequin pattern in which red, green, and blue are the dominant colors against the stone's black background. The Aurora Australis weighs 180 carats and measures 3 inches by 1.8 inches.
The Andamooka Opal—also known as the Queen's Opal, this magnificent gemstone was presented to Queen Elizabeth II in 1954 on the occasion of her first visit to South Australia. The opal, mined in the town of Andamooka, was cut and set into an 18 carat palladium choker band. The final gemstone weighed 203 carats. The queen was also given a set of opal earrings. Today, this historic opal jewelry is considered a significant part of Queen Elizabeth II's special crown jewels.
The Fire Queen Opal—is the finest example of an "eye-of-opal" and perhaps the most famous of all opals. The polished, flat pear-shaped top of the Flame Queen Opal gives flashes of both fiery red and dynamic bronze, depending on the lighting and angle of view. The Fire Queen Opal was first discovered in 1914 at the Bald Hill workings at the Lightning Ridge, New South Wales, Australia. The Fire Queen is now a part the John D. Rockefeller family gemstone collection. 
Olympic Australis
The Olympic Australis Opal considered the largest and most valuable gem-quality opal ever discovered. Found in 1956 at the "Eight Mile" opal field in Coober Pedy, South Australia, the Olympic Australis was named in honor of the Melbourne Olympic Games. In 2005, it was valued at AUD$2,500,000. Due to the purity of this extraordinary stone, it is estimated that 7,000 carats could be cut from the rough stone. Because of its uniqueness, the Olympic Australis remains uncut, and weighs an estimated 17,000 carats.
The Halley's Comet Opal — According to the Guinness Book of World Records, the Halley's Comet Opal is the world's largest uncut black opal. It was named as such because it was discovered in the famous opal mining town of Lighting Ridge, Australia in 1986, a year when Halley's Comet could be seen from Earth. The opal weighs 1,982.5 carats (13.99 ounces) and is about the size of a man's fist.
The Roebling Opal—An extraordinary black opal weighing 2,585 carats, the Roebling Opal was discovered at the Rainbow Ridge Mine in Virgin Valley, Nevada. The Roebling opal, which dazzles with flashes and plays of blue and green brilliance, was named after its owner Colonel Washington Augustus Roebling. The opal was donated in 1926 by the Colonel's son, John A. Roebling, to the Smithsonian Museum of Natural History in Washington, D.C.
The Galaxy Opal—Weighing in at an astounding 3,749 carats (estimated), the Galaxy Opal was listed by Guinness (1992) as the "World's Largest Polished Opal." Unearthed at the Boi Morto Mine in north eastern Brazil in 1976, the finished opal was carved from a grapefruit-sized piece of rough stone weighing 5,205 carats. In fact, the weight of the finished stone was beyond the capacity of any gem measuring scale at the Gemological Institute of America. An approximation of its weight in carats had to be determined using a postal scale.
The Royal One–The eye-popping 306 carat Australian black opal known as the "Royal One" was discovered in Lightning Ridge in 1999. Renowned Australian-born and Santa Fe-based jewelry designer Katherine Jetter describes The Royal One is "a breathtakingly beautiful stone featuring a rich, royal blue color that is enhanced by the stone's natural and undulating form. The color is so brilliant that the stone almost glows in the dark."
The Rainbow Virgin–Considered "the finest opal ever unearthed", the Rainbow Virgin Opal was discovered in the opal fields of Coober Pedy. Valued at more than $1 million, this stunning gemstone dazzles with an insanely rich palette of colors and light-refracting qualities.
Custom Designed Jewelry by Mark Singerman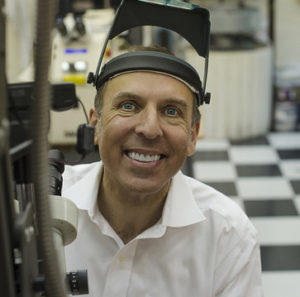 We will work with you to create a custom designed opal ring, pendant, or earrings that meet your vision and budget. Remember, in many cases we can create a custom designed piece of opal jewelry (or jewelry with any gemstone) for you that competes price-wise with off-the-self jewelry found at the chain retailers and big box stores.
Read about our design process.
I look forward to seeing you at our store in Old Town Novato. 
Mark Singerman