Thistle & Bee – A Beautifully Crafted Line Of Sterling Silver Jewelry
THE THISTLE & BEE TRADITION 
"Thistle & Bee is a finely-crafted line of traditional and modern styles of sterling silver jewelry that epitomizes elegance, unique designs, and luxury. The brand has maintained a longstanding reputation as a top European designer and manufacturer renowned for meticulous attention to details and trend-setting creativity."
– Mark Singerman, Owner, Valentino Fine Jewelers
Thistle & Bee Global Style
"Global Style" inspirations for Thistle & Bee designs may come from the richness of antiquities happened upon in Marchés aux Puces in Paris or among the bamboo forests of the Far East. The Thistle & Bee design team travels the world in search of those simple details that will inspire the next signature collection.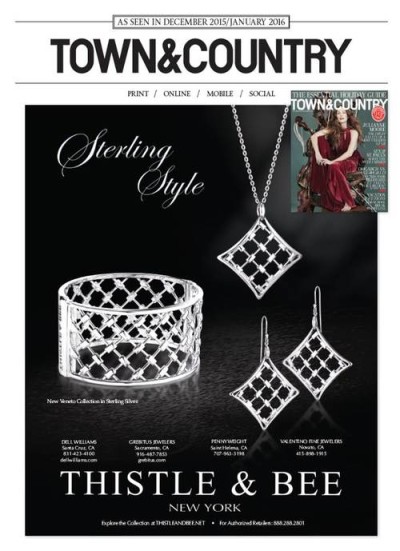 Patterns and textures have always been an important source of inspiration. From the nodules on a bamboo branch to the intricate ruffles on a luxurious high-collared blouse – Thistle & Bee carefully translates the most intricate details into signature designs and enduring statements in sterling silver."
Thistle & Bee .925 Formula for Fine Sterling Silver Jewelry
"All Thistle & Bee Silver is .925, reflecting the combination 92.5% pure silver and 7.5% copper. While other metals can be used, copper adds the necessary strength without affecting the cool, elegant beauty of silver. All Thistle & Bee pieces are stamped with .925 Sterling Silver along with the Thistle & Bee (or T&B) registered trademark."
"Over time, Thistle & Bee jewelry attains a fine patina – the soft, warm glow that appears on the surface of a well worn piece of sterling silver. Even highly polished silver objects develop this deeper beauty over time, and it is one of the reasons that old silver is highly prized among connoisseurs."
Please visit the Thistle & Bee website.
NOTE: To maintain a bright polish, visit Valentino Fine Jewelers.
Contact us for more information about the Thistle & Bee line of fine designer sterling silver jewelry.