Valentino's Custom Jewelry Design Process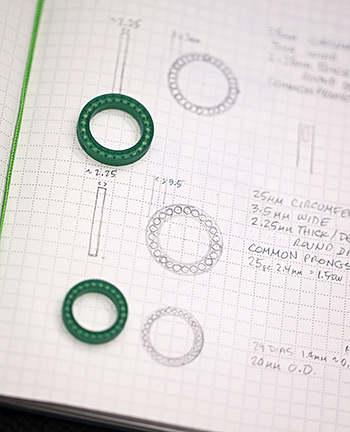 Our custom jewelry design process starts with your vision and inspiration. We will closely work with you to bring your concept to life for custom-designed diamond rings, engagement rings, pendants, bracelets, and earrings. To aid in the creative process and to guide your imagination, we can show you many examples of custom-designed pieces and a large selection of loose gems.
Once we have a clear understanding of your style preference–modern, vintage, bold, or delicate–and your choice of precious metals and gemstones, we provide a cost estimate and timeline for completion of the piece. Typically, it takes six weeks from initial consultation to delivery of the final product.
Contact us to schedule a free custom jewelry design consultation with our highly talented and experienced jewelers. We specialize in custom design engagement rings.
Computer-Aided Design (CAD)
After developing hand-drawn sketches, we produce a computer-aided design, or CAD drawing, that gives a more exact rendering of the piece. The CAD drawing is presented to you for approval of all design elements. After your review of the CAD drawing, you can indicate any changes or adjustments to the design you would like to see before fabrication begins. Once the final version of the CAD drawing is approved, the fabrication process begins.
Jewelry Fabrication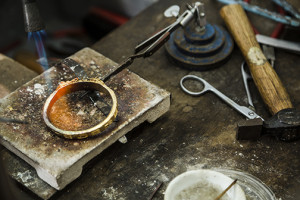 In the first step of the fabrication process we create a wax model based on the CAD drawing. The wax model is an exact, 3-D representation the piece. Once the wax model is complete, we present it to you for approval and feedback.
We then place the wax model in a cylinder and pour in investment, which is similar to plaster of Paris. After air bubbles are extracted from the investment, the cylinder containing the encased wax model is placed into a kiln that is heated to 1,200 degrees. The heat burns out the wax leaving a perfect impression of the piece of jewelry. We then pour molten silver, gold or platinum into the mold to make a cast of the piece.
Quality Control and Craftsmanship
To ensure quality fabrication, craftsmanship, and control, all custom jewelry work is performed onsite in our Novato store where we utilize the latest manufacturing processes and equipment including:
A cutting-edge laser welder that allows us to provide services ranging from the repair of costume jewelry to platinum fabrication welding
A powerful microscope that enables us to perform exceedingly delicate, high-precision work on structural components and details that the naked human eye could otherwise not see
A highly specialized, computer-run kiln that ensures perfect casting and consistent quality